In the month of July, D98 conducted 8 Power Up sessions across 8 different locations – Jaipur, Indore, Jamnagar, Ahmedabad, Mumbai, Navi Mumbai, Thane and Baroda and witnessed an overwhelming registration of 750+ members.
Thank You members of D98 for attending Power Up and making all efforts of the organizing team worth it. I hope you had a good time meeting fellow Toastmasters in person and understanding the magnitude of the community.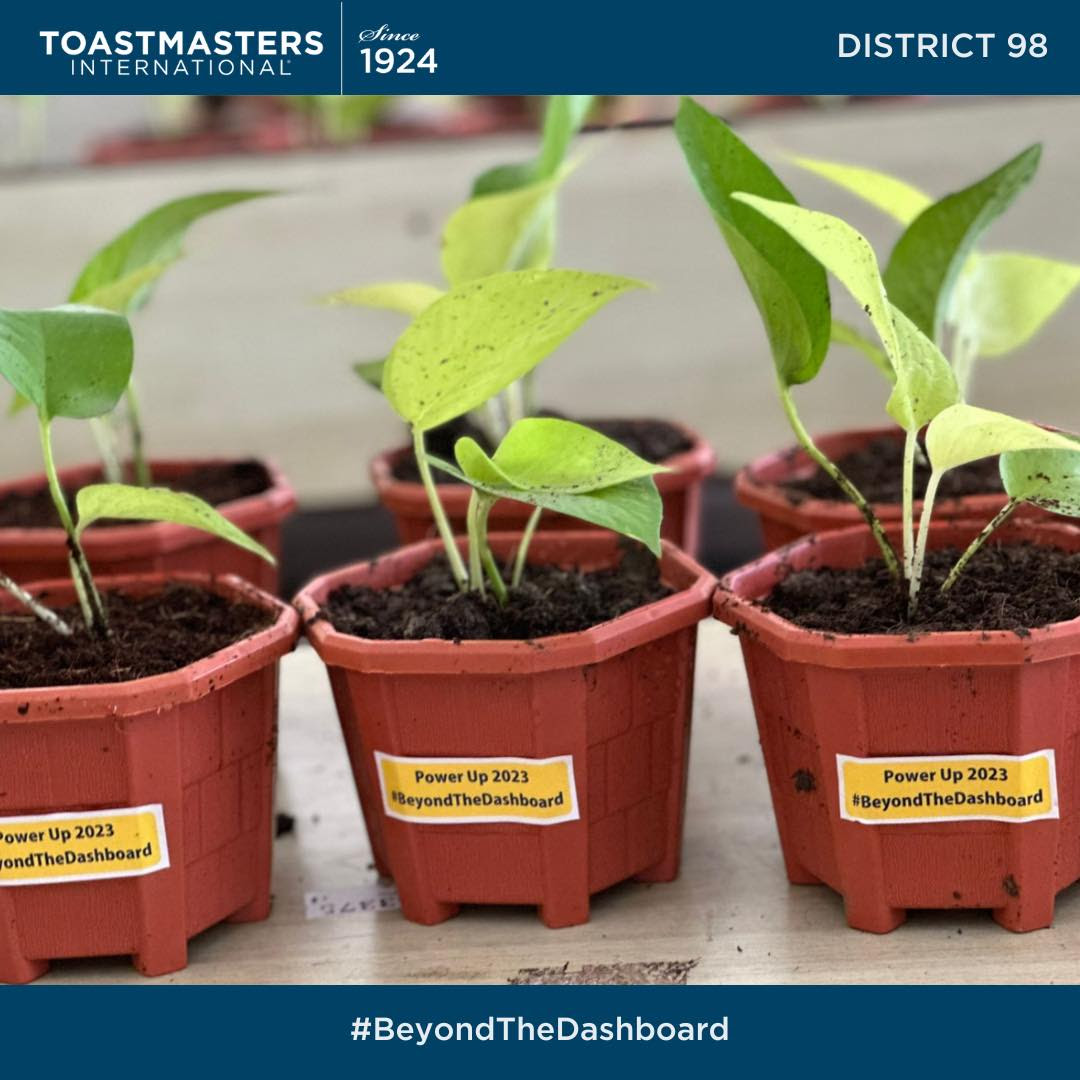 The sapling that we gave as a token will act as a gentle reminder that a little sun, fertile soil and a regular supply of water is exactly what our clubs need and hopefully, it will be a full-grown plant by the time we meet at Power Up 2.0.
The dashboard has been refreshed for the current program year and is an enabling tracker of our progress. Since the last email, District 98 has upgraded to Select Distinguished District for the program year 2022-23 and the floor for this program year has risen.
For the Month of August, let us establish one new healthy connection, collaborate with a fellow Toastmaster and communicate our success stories.
Connect
One of the biggest benefits of Toastmasters which we wish to leverage this year is the 'Network'. We have industry experts, entrepreneurs, students, etc but we need to identify and showcase them. There are corporates that are seeking talented individuals and there are several members hunting for their next big opportunity. There are various speaking and training assignments that come our way. It is time for us to channel the same. Let's connect?
Collaborate
We exchanged quite a few contacts during the recently concluded Power Up. Some of us are part of various Toastmasters WhatsApp groups. Let these not remain just another contact on your phone. I challenge you to collaborate with another club and host a joint meeting this August or take up a role at another club you have never been to.
Communicate
Post Power Up, I am sure we are all energized and flooded with ideas. It is a good time to discuss this with fellow members and bring them to execution. August is also the ideal month for clubs to conduct an Open House and speak about the benefits that you have reaped. Spread the word. Communicate your thoughts, ideas, suggestions, and feedback to us and let's make D98 better – one member, one club at a time.
We'll soon witness the World Championship of Public Speaking and a new member shall be crowned the World Champion. The TRIO will be traveling to Nassau, Bahamas to witness this live. I hope that we have representation from D98 in 2024.
Let the fun ride of learning continue !!!
#BeyondTheDashboard
Hardik Shah
District Director | District 98 | Toastmasters International